modelS & SEQUELS
AUGUSTO BOAL
In the 1960s Boal created a process whereby audience members could stop a performance and suggest different actions for the actors, who would then carry out the audience suggestions. Taking it a step further, he began inviting audience members with suggestions for change onto the stage to demonstrate their ideas. In so doing, he discovered that through this participation the audience becomes empowered not only to imagine change but also to practice that change and thereby generate social action. For Boal this was the birth of the "spect-actor" (not spectator) and his theatre was transformed.
ELOISA CARTONERA
Informal publishing houses in Buenos Aires and in Lima broker collaboration between the best living literary talents and cardboard recyclers to produce individual editions that generate income and circulate books among the cities' poor residents.
ANTANAS MOCKUS
The slim, bearded, former mayor explained himself thus: "What really moves me to do things that other people consider original is my passion to teach." He has long been known for theatrical displays to gain people's attention and, then, to make them think.
Antanas Mockus, philosopher and mathematician, formerly President of the National University of Colombia and twice Mayor of Bogota, pioneered artful interventions to revive civil society and has advised countless statesmen on civic culture. Mockus is our model for multiplying the number of co-artists/citizens in urban revivals. His creative interventions in all aspects of city life, from mimes who direct traffic to a vaccine against domestic violence, count on a broad base of active participation and co-creation.
In 2012, the Berlin Biennale invited Mockus to present "Blood Ties", a work of installation art exploring the possibilities of artistic cooperation in efforts against drug-trafficking and violence. He also prepared a lecture/performance entitled "Am I a good artist?" .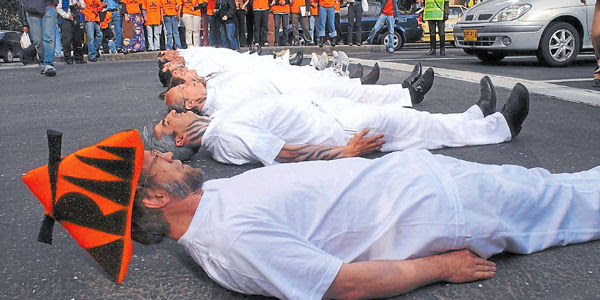 Mexican artist Pedro Reyes is constantly exploring the limits of the "usefulness" of artistic practices in intractable social situations. Ad usum, his latest exhibition shown at both Harvard and the Americas Society in New York, showcases the research Reyes has conducted in collaboration with the Cultural Agents Initiative at Harvard on the disputed notion of "utility" of art objects and processes.
In the spring of 2007, the Carpenter Center for Visual Arts at Harvard University hosted the exhibit, ad usum: To Be Used in conjunction with the Cultural Agents Initiative and the David Rockefeller Center for Latin American Studies. The exhibit was curated by José Luis Falconi, cofounder of the Cultural Agents Initiative.
In 2008, he started a project called Palas por Pistolas, where he collected guns and melted them into steel to fabricate shovels, tree planning. See the video below for details:
In November 2010 the Cultural and Humanitarian Agents seminar series invited Pedro Reyes to present his project, Palas for
Pistolas/Guns for Shovels, at the Harvard Humanities Center.
Pedro Reyes has been a guest lecturer for the Cultural Agents courses at Harvard University.
Visit his website.
From building opera houses with wire to mapping the connection between the automobile and your mother-in-law, Jaime Lerner delights in discovering eccentric solutions to vexing urban problems. In the process he has transformed the face of cities worldwide.
Jose Antonio Abreu founded El Sistema ("the system") in 1975 to help poor Venezuelan kids learn to play a musical instrument and be part of an orchestra. 30 years on, El Sistema has seeded 102 youth orchestras -- and many happy lifes.
Gustavo Buntinx, is an art historian and author of the book E.P.S. Huayco. Documentos (Lima, Centro Cultural de España, 2005). Born in Buenos Aires and resident in Lima for many years, Gustavo Buntinx is director of the Cultural Centre of the National University of San Marcos in Lima and leads the Micromuseum (There's Room at the Back) project, a museum-archive initiative set around different meanings of the term "micro", in the sense of small, transportable, public and nomadic. He is the author of numerous works on Latin American visual arts and forms part of the Colectivo Sociedad Civil (Civil Society Collective), active participants in the social movement that contributed so much to the (cultural) fall of the dictator Alberto Fujimori in the year 2000.
GEDIMINAS URBONAS
Professor Gediminas Urbonas of MIT was born in Lithuania. Urbonas has dedicated his career to creating socially interactive art whose aim is to communicate with society through both new and traditional forms of media. With his partner Nomeda, he founded the JUTEMPUS initiative, which aims both to establish a critical discourse to explore today's reality and to articulate a link between art and other fields of life.
In 2005, the Urbonases helped organize an effort to occupy a Soviet movie theater, set for demolition, transforming it into a space for artistic, social and political innovation called the Pro-Test Lab. In the resulting struggle to keep open the lab space/theater/monument of Soviet symbolism/power/ struggle/culture/totalitarianism/pride, Gediminas successfully lobbied for the national Lithuanian government to reconsider the concept of public space. Not only did he manage to highlight the importance of the issue in the political forum, he was also able to convince the authorities that it was necessary to literally define "public space" in an ammendment to nation's constitution.
EDI RAMA
Edi Rama was born in Tirana, Albania on July 4th, 1964. He is currently the Prime Minister of Albania and is head of the Socialist Party of Albania.
When Edi Rama was the mayor of Tirana, he used his background as a painter to help transform public spaces with colourful designs. This helped to instill a sense of pride into citizens, and helped to reduce crime in the city. It helped make people feel safer, and helped inspire confidence in the leaders of the city.
NAYIB BUKELE
"We´re not heroes," he said. "But we have better guitars."
VQR Online.
Check the article "The Prince of Peace": http://bit.ly/2e3k8k1
Nayib Bukele was born in San Salvador on 1981; he is a politician and businessman and currently the Mayor of San Salvador.
During his administration he designed strategies to solve violence problems in the city.
ONCart
OncArt, Inc., is an international nonprofit based in Boston, Massachusetts, that connects clinicians with artists to create illustrated health education materials. OncArt materials are designed especially for people in low­ resource regions where advanced rates of disease are high, literacy levels are low, and clinicians do not speak the same language as their patients.
Oncart.org is a trademarked responsive web application. The site is binary: it offers a collaborative design tool and a library of works searchable by user­ generated hashtags. OncArt invites clinicians to Request Illustrations for their health messages, and artists to upload media for these requests. Clinicians and artists' co­designed works are saved in the Library to be deployed to patients by printing the work or sharing the work's URL. The site was built by SMPC.
Founders
Co-founders Chiara Eisner and Julia Shivers direct all aspects of oncart.org. Chiara is trained in public health and works as a Development Associate at MASS Design Group. Julia is a writer who plans and develops content for digital media teams, publishers, and production companies. A former French translator, she is also a student of local East African languages and culture. Julia and Chiara joined forces to make OncArt more than just a good idea.
sequels are the things that they have inspired us to do
CULTURAL AGENTS MAP
Interns at Cultural Agents created an interactive map that visualises all the other institutions that have similar programs to ours:
Public Engagement Roadmap
Recently, there was a launch on an interactive tool and report focused on designing effective public engagement. This is the culmination of an 18-month action research project working with 5 cities throughout the country. This resource will assist one in planning and processing his or her public engagement process. It has variety of different ideas about structuring one's process and hands-on activities once can try. Please take a look and share widely. Hope this can be a valuable resource for research and practice.

For more information, please visit: https://engage.livingcities.org
I Rest My Case

"I Rest My Case" proposes how current educational system is deteriorating students' creativity and limiting them from their full potential and ability. Each student is different; Each acquire different dream, gifts, need, and potential. Therefore, current system needs a change by promoting diverse opportunities, curriculum, and programs. It is "our duty to customize education to upgrade a change... to bring the spirit of each student, that should be our task."
 
Watch the video:
Cultural Agents and LAVA Perú, by Javier Suarez
Few months ago Javier Suárez (Harvard University, GSAS-Romance Languages-Italian and Spanish, Graduate Student), founded LAVA Perú (Laboratorio de Vanguardia Pedagógica) (LAVA Perú, Pedagogical Vanguard Laboratory), inspired on House of Literature labors and Cultural Agents.
LAVA Perú is an educative proposal that promotes pedagogy as a poetical praxis. We believe the profesor is a poetic designer which labor is to burst, experiment and articulate multiple knowings within its own community. We share our poetical-pedagogies through trainings made for teachers, workshops in our cultural centres, artistic and editorial counselings.
We invite you to visit and suscribe to:
http://www.lavaperu.com/
https://www.facebook.com/lavaperu/?fref=ts
https://www.youtube.com/channel/UCt9TbG5D-Y7UYvzvZ7HJrbw
STUDENT TESTIMONIALS
Corey Husic, Harvard College '17
"I came into AI13 looking to fulfill a gen-ed requirement, but this class opened my eyes to topics that I find very interesting, but have not been previously exposed to. I have found that many of the readings are important for understanding social issues and the way society works. Even in life outside of class, I find myself making connections to the theorists we've read and the ideas we've covered in our discussions."
Alice Li, Harvard College '14
Dancing to Heal

Alice Li took the Cultural Agents course in the fall of her junior year and was captivated by the theories and applications discussed in class. She found the guest lecture by Professor Shahram Khoshbin, who also happened to be a freshman seminar professor, particularly interesting because it bridged the relationship between art and the human condition of life, death, illness, and disability. During the fall semester of her senior year, Alice sought Professor Sommer's guidance to explore her own experiences of using dance to appreciate disability in her personal life. Alice is a 2014 recipient of the Michael C. Rockefeller fellowship, which will allow her to explore the art of dance as therapy. For one year after graduating from Harvard, Alice will experience the passionate flamenco dance as a way of life in its birthplace of Cadiz, Spain, while volunteering at a local rehabilitation clinic and seeking to understand how the art of dance can aid patients as a creative and powerful form of therapy
Javier Felipe Aranzales Flechas
Inspired by his experience in the course Cultural Agents at Harvard, Javier Felipe Aranzales Flechas participated in a summer internship offered by Harvard's Institute of Politics and the David Rockefeller Center for Latin American Studies in Bogotá's Center for Social Innovation, a branch of the National Agency to Overcome Extreme Poverty (ANSPE) of Colombia's national government. For Javier's testimony, see: http://ro.drclas.harvard.edu/blog/my-path-ambassador-arts
"Always on the search to fill my life with metaphors and symbolism, I aspired to have my summer parallel the concept of artistic social interventions. This internship brought the "social intervention" aspect meaning that the "artistic" element was needed."
ACADEMIC TESTIMONIALS
Course: Education's Digital Future, Educ 217x Histories and Futures of Humanistic Education
Professor Chris Newfield, Stanford University
"Online education is one of the most hotly debated topics today. Whatever your opinion, there is no doubt that it is and will continue to shape education in a profound way. This course examines and debates certain features of online education specifically as they relate to the humanities and notions of engaged critical learning. EDUC 217x at Stanford will focus on historic moments during which the idea of education-- what it is, for whom it is intended, and with what values--have come into crisis."
For the third collaborative class, "Professor Doris Sommer, will also give a public lecture on her Pre-Texts project. Pre-Texts blends lierary study with creative and critical thinking in public school settings in the US and in Latin America. You will find it exciting and inspiring."
Course outlined here.

Course: Cultural Agency: Dance, Democracy, and Tourism in Bahia, Brazil
Professor Lucía M. Suárez, Amherst College
Course description: Examining the works of cultural agents in Latin American contemporary history, we will interrogate the definition and function of cultural agency. Who counts as a cultural agent? How do they work within different racial and socio-economic settings? What role does tourism play in the design of identity, memory, and citizenship in Bahia? Our focus will be on Afro-Bahian dance and performance. We will question the intersections between personal agency and cultural agency."
 
Course: Research Writing: Socially Conscious Texts
Instructor Stephen Shane, Emerson College

Course description: What makes a text socially conscious? What is the work of art in the world, and how do certain themes and ideas remain relevant across cultural boarders and generational gaps? These are the questions we will work to understand and answer over the course of the semester. By examining a wide range of contemporary texts, both fiction and non-fiction, from short-stories to memoir, documentary films like Hoop Dreams to the essays of James Baldwin, we'll search seemingly disparate texts for the threads of consistent moral themes. We'll work to understand the ways in which these ideals fit within a broader discourse, and how we can constructively engage with that ongoing conversation ourselves.

Mr. Shane on Cultural Agency:
"This semester I've tried to put my own tilt on the course, to have it follow many of the themes that Doris seems to have touched on in her research, titling the course "Socially Conscious Texts." ... This approach allows students to engage with immediate, relevant social issues while building and honing their writing and research skills. For example, I might excerpt Michelle Alexander's study of America's criminal justice system, The New Jim Crow, to help the class enter a discourse on institutionalized racism. As students unpack such a rich, sophisticated, and socially loaded text, they inevitably work to understand the different types of research and rhetorical moves involved in producing a well-rounded composition. Students learn to shape and effectively express their beliefs through different genres of expression they deem appropriate, thus contributing to a discourse with the confidence that their ideas are as legitimate as those expressed in any reading on the syllabus. Furthermore, in using "socially conscious texts" as a frame for the class, I'm able to design assignments and initiate discussions around service minded issuesthat encourage students to investigate, interact with, and understand the communities they take part in. To me, this speaks to instilling a sense of cultural agency in our students, which Doris's educational research strives to do as well."